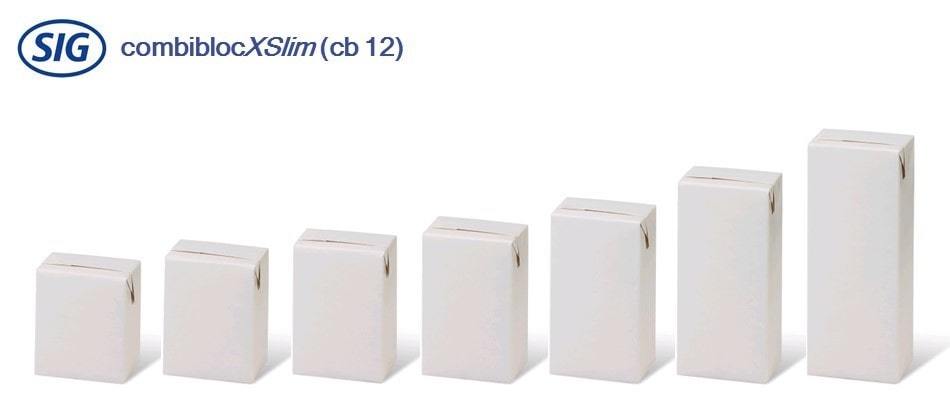 SIG Combi block X Slim C B twelve are compact aseptic cartons available in eight different sizes. From left to right: 80mL (2.7 fl. oz.), 90mL (3.0 fl. oz.), 100 mL (3.4 fl. oz.), 110 mL (3.7 fl. oz.), 125 mL (3.7 fl. oz.), 150 mL (5.1 fl. oz.), 180 mL (6.1 fl. oz.)
XSlim: "The Little Sensation"
Small packages are the future. SIG Combibloc developed the revolutionary XSlim fractional filling and packaging system to address this growing need. With the XSlim fractional filling and packaging system, you can package premium beverages in sizes that don't price you out of competitiveness, sell indulgent beverages in servings that maintain healthy nutritional values, or create cartons that are perfect for a child's nutritional needs. Learn why XSlim can work for you:
Portable – These packages are ultra-thin (47 x 32.5 mm), so they fit comfortably in little and big hands alike.
Flexible – A single XSlim filling machine can produce seven different sizes: 80mL, 90mL, 100mL, 110mL, 125mL, 150mL, and 180mL.
Innovation – SIG Combibloc created the first 80ml and 90ml cartons on the market.
Aseptic – These extended-shelf-life cartons are stable at ambient temperature.
Our Part
We are proud to be partnering with SIG Combibloc to bring XSlim capabilities to Steuben Foods.